STAND OUT
Nov 14, 2022
2022-11-14 8:42
STAND OUT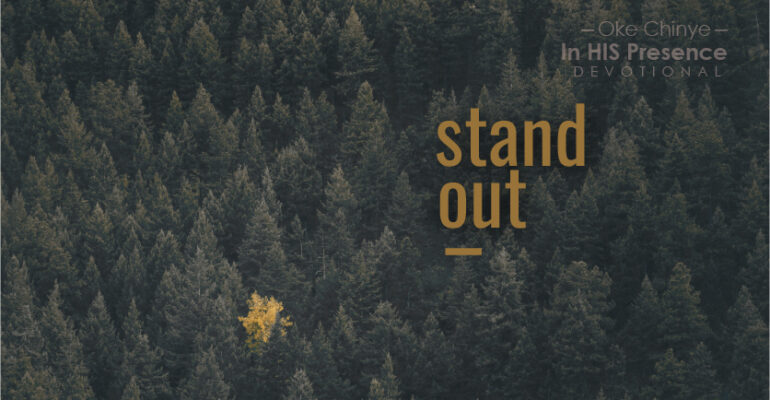 STAND OUT
Read: Daniel 1:1-18

Meditation verse:
"Do you see a man who excels in his work? He will stand before kings; he will not stand before unknown men" (Proverbs 22:29).
Nebuchadnezzar, king of Babylon had besieged Jerusalem and taken captive some of the children of Israel. What was the criteria of selection: 'young men in whom there was no blemish, but good looking, gifted in all wisdom, possessing knowledge and quick to understand, who had ability to serve in the king's palace, and whom they might teach the language and literature of the Chaldeans" (Daniel 1:4).

Among those selected were Daniel, Shadrach, Meshach, and Abednego. These young men were gifted in knowledge, skills, and wisdom. In addition, Daniel had understanding in all visions and dreams. They were not just gifted in skills; they were exceptional in character and in their commitment to God. Daniel purposed in his heart that he would not defile himself with the king's delicacies and wine. He insisted that they be given vegetables and water instead. At the end of their probation period, these four young men were found to be ten times better than all the magicians and astrologers in that area.

How are you standing out in your place of work, community, church, or wherever you are living your life? Are your skills, character, commitment, excellence, and diligence causing you to stand or are you lost somewhere amongst the multitude? The path to greatness is a lonely journey. What are you doing differently from others that will single you out for favor and promotion? For the sake of what are you willing to do or not do what?
IN HIS PRESENCE is written by Oke Chinye.
Have you asked Jesus Christ to come into your heart?

He says in Mathew 11:28, "come unto me all ye that labour and are heavy laden, and I will give you rest." He longs to give you rest."

Would you like to do so now? Here's a prayer you can say:
Dear Jesus, I believe that You died to save me from all my sins. Today, I invite you into my heart and I accept you as my Lord and Saviour. Please forgive all my sins and help me to live my life for You.

If you prayed this prayer, send me an email at rockteachingministry@gmail.com

I would love to pray with you personally and send you a copy of my book; 'Living the Life' to encourage you as you begin your new life in Christ.