WORK OUT YOUR SALVATION
Dec 10, 2022
2022-12-10 2:11
WORK OUT YOUR SALVATION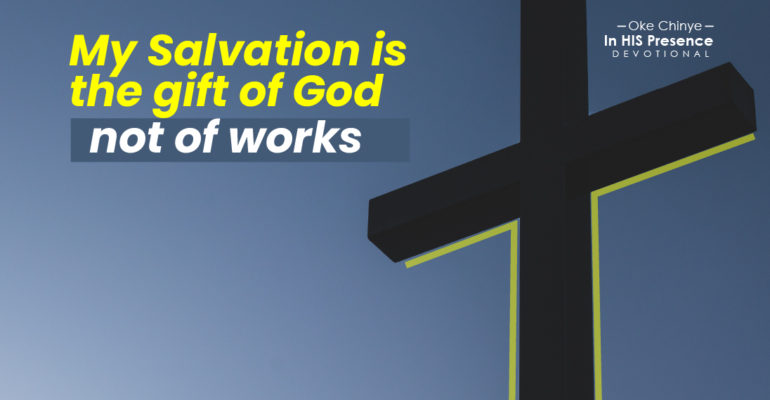 WORK OUT YOUR SALVATION
Read: 2 Peter 1:5-11
Meditation verse:
"Therefore, my beloved, as you have always obeyed, not as in my presence only, but now much more in my absence, work out your own salvation with fear and trembling" (Phil 2:12).
We have been saved by grace through faith, and that not of yourselves. Our salvation is the gift of God, not of works, lest anyone should boast (Ephesians 2:8-9). However, faith works together with and is perfected by works. James 2:26 says as the body without the spirit is dead, so faith without works is dead.
You grow in your faith after salvation by the works that you do and today's reading highlights some of the works:

But also, for this very reason, giving all diligence, add to your faith virtue, to virtue knowledge, to knowledge self-control, to self-control perseverance, to perseverance godliness, to godliness brotherly kindness, and to brotherly kindness love. For if these things are yours and abound, you will be neither barren nor unfruitful in the knowledge of our Lord Jesus Christ. – 2 Peter 1:5-8
Virtue implies behaving in a way that shows high moral standards.
Knowledge is the practical understanding of something, in this case the word of God.
Self-control is the ability to regulate your responses to avoid undesirable behaviours and increase desirable ones.
Perseverance is doing something despite difficulty in achieving success
Godliness is the practice of conforming to laws of God's kingdom
Brotherly kindness is the extension of the natural affection associated with a loved one to others not related to you
Love is more than feeling. It is sacrificial and giving whilst expecting nothing in return.
Working out your salvation by developing the above traits will enable you remain productive and fruitful in your walk with God. But if you lack these works, then your faith is dead. "For he who lacks these things is short-sighted, even to blindness, and has forgotten that he was cleansed from his old sins. Therefore, brethren, be even more diligent to make your call and election sure, for if you do these things, you will never stumble" (2 Peter 1:9-10).
IN HIS PRESENCE is written by Oke Chinye.
Have you asked Jesus Christ to come into your heart?

He says in Mathew 11:28, "come unto me all ye that labour and are heavy laden, and I will give you rest." He longs to give you rest."

Would you like to do so now? Here's a prayer you can say:
Dear Jesus, I believe that You died to save me from all my sins. Today, I invite you into my heart and I accept you as my Lord and Saviour. Please forgive all my sins and help me to live my life for You.

If you prayed this prayer, send me an email at rockteachingministry@gmail.com

I would love to pray with you personally and send you a copy of my book; 'Living the Life' to encourage you as you begin your new life in Christ.