RUN WITH EVERY WORD YOU HEAR
Jan 09, 2023
2023-01-08 23:48
RUN WITH EVERY WORD YOU HEAR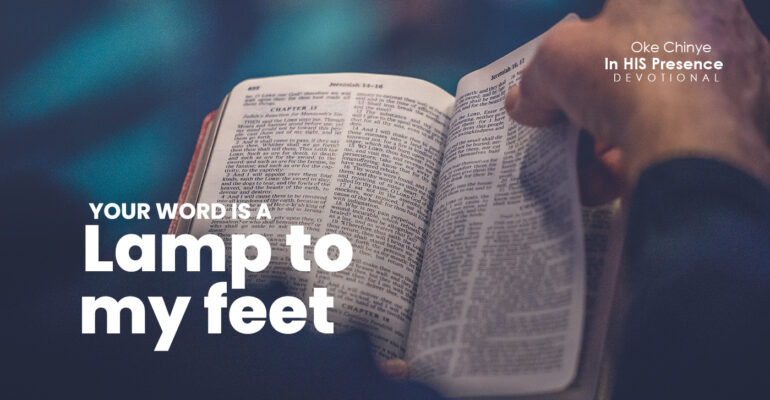 RUN WITH EVERY WORD YOU HEAR
Read: Psalm 119:89-106
Meditation verse:
"Your word is a lamp to my feet and a light to my path" (Psalm 119:105).
When God gives you a word of promise, He expects you to do something with it. He gave it to you as a guide so that you do not grope or stumble in darkness. The bible states that God's word is a lamp to our feet. Your feet are for going forth. When you take hold of a lamp in a dark room, you do not just stand still. You put the light in front of you and move forward. That way, you do not grope in the dark, stumble, fall or end up in a wrong place. Similarly, with God's word, you will not stumble through life or miss your way entirely. But you must run with the word, for it to light up your path.

It took several years before I understood this principle. Towards the end of each year, I would take out time to wait on God in fasting and prayers. I would ask Him for a theme based on a scripture to guide me in the coming year and He was always faithful. One evening, I sat at my desk looking at all the themes that God had given me in the past years and wondering why they had not yielded the results I expected. It suddenly dawned on me that God had expected me to order my plans and activities for each year based on the word He had given me.  I had however sat still, expecting a magic wand to make things happen.

For instance, the year He gave me "purposeful advancement towards a life of significance", did I in the cause of the year, come up with a plan on how I would advance into significance in key areas of my life? Did I seek out enough opportunities to show case my gifts and talents? Purposeful means intentional, planned or thought off and to be significant, you must show up. When He said, "grow unto perfection", did I increase the time I spent studying His word? Did I ponder on what childish things I needed to do away with to become mature?

When God gives you a specific word, it is because He wants to accomplish something specific in that area of your life, but unless you act based on the word, nothing happens. Be diligent to run with every word that God speaks to you this year. If His mouth has spoken, then His zeal has already perfected.

IN HIS PRESENCE is written by Oke Chinye.
Have you asked Jesus Christ to come into your heart?

He says in Mathew 11:28, "come unto me all ye that labour and are heavy laden, and I will give you rest." He longs to give you rest."

Would you like to do so now? Here's a prayer you can say:
Dear Jesus, I believe that You died to save me from all my sins. Today, I invite you into my heart and I accept you as my Lord and Saviour. Please forgive all my sins and help me to live my life for You.

If you prayed this prayer, send me an email at rockteachingministry@gmail.com

I would love to pray with you personally and send you a copy of my book; 'Living the Life' to encourage you as you begin your new life in Christ.